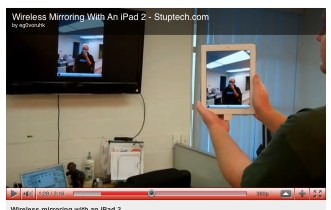 Well isn't this interesting? A presenter can mirror the iPad screen wirelessly – what could teachers do with this? Very impressive, and apparently they spent only about $150.
Teachers and corporate presenters alike begged Apple for video mirroring capabilities for the iPad, and the company delivered the feature in the iPad 2. Apple's solution still leaves users tied to a cord, however, so two employees at networking service provider Straight Up Technologies developed a simple hack to give their client wireless HDMI output and freedom of movement while sharing the iPad's screen.
via iPad wireless HD mirroring hack makes for better presentations.